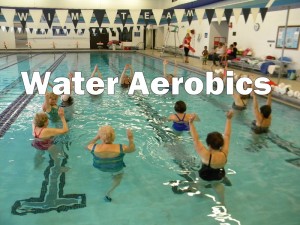 Doing aerobic exercises in the water is a popular way to improve or maintain fitness. Don Boyd and Elvia Woods are certified water aerobic instructors at an Oviedo, Florida fitness center. In this genial and informal conversation, they share their expertise and humorous stories from their many years as instructors. Feature length – 9:48

---
Water aerobics are cardio and strength-building classes held in a swimming pool. All the traditional land-exercises like jumping jacks, bicep curls and jogging are instead done in the buoyancy of the water. This builds fitness without jarring stress on joints. Many doctors and physical therapists recommend this form of exercise for rehabilitation. Runners and other athletes often use them to keep in shape while recovering from an injury. The Arthritis Foundation encourages patients to participate in these water exercises to cushion painful joints.
In Oviedo many people enjoy these "Aqua Aerobic" programs. They are held at public facilities like the Oviedo Aquatic Facility, The Oviedo YMCA and at private fitness clubs. Retirement centers often offer classes at their pools.
Don Boyd and Elvia Woods are certified water aerobic instructors at the LA Fitness health clubs. Don is 69 years old and has the muscles of young athlete. He served 20 years in the Navy and then another 27 in the Civil Service. He became an instructor 2 years ago after enjoying water aerobic classes. The exercises helped restore his painful back and in the process he lost 60 pounds and gained a great physique.
Elvia Woods served 20 years in the U.S. Army and has been an aerobic instructor in Oviedo for more than 5 years. Elvia's infectious laugh encourages everyone to "try harder and feel it!"
Extended Interview & Pictures
Don Boyd and Elvia Woods

Extended interview (18:18)
Additional Feature Information