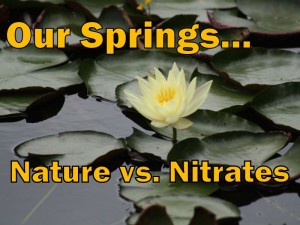 Many of Florida's springs, including Wekiva Springs in Seminole County, have high levels of nitrate contamination which has stimulated a dangerous growth in algae and water plants. Scientists Dr. Robert Knight and Dr. Todd Kincaid present their analysis of the problem,  and the research that suggests action to protect the Floridan Aquifer and the spring (length: 27:38).
---
(Produced, reported and edited by
Desta Horner
, Title photo "Waterlilly 3" courtesy Flavio Takemoto)
Septic tanks and fertilizer runoff in the springs' basins are primary sources of nitrate in the springs. However, water treatment plants contribute by spreading treated water on the ground to percolate down to recharge the aquifer. They do this using spray fields and Rapid Infusion Basins (RIB). This water is meant to percolate through the limestone geology which removes the nitrates. However, the recent appearance of nitrates in springs is causing scientists to take a new look at this method.
Dr. Robert Knight, president and founder of the Howard T. Odum Florida Springs Institute, is active on spring restoration projects throughout the state. He advocates replacing spray fields and RIBs with specially created treatment wetlands and marshes to naturally remove the nitrogen before it sinks into the ground and down to ground water.
Dr. Todd Kincaid is the head of GeoHydros LLC. He has spent years exploring, mapping and modeling the characteristics of the Floridan aquifer. After more than a decade of study and experimentation in the Wakulla Springs basin, he concluded that the water in the aquifer can travel swiftly over long distances through underground conduits and therefore may not achieve the purification expected by limestone infiltration that we had assumed. Tracing nitrate contamination must take the Karst geology of Florida into account when looking for sources.
For more scientific discussion and explanation from the scientists please listen to their extended remarks in podcasts below and view the slide shows that accompanied each scientist's presentation.
This program was recorded at Urban Rethink in Orlando on August 17, 2013. The Orange County League of Women Voters Natural Resource Committee sponsored the lectures as part of their yearlong program spotlighting the threat to Central Florida's springs.
Principal Speakers
Slides mentioned in presentations:
CMF podcasts featuring state and local environmental issues (from most recent):
Pictures
After you launch the slideshow below, click "Next" and "Previous" to rotate through the photos.
Extended remarks:
Dr. Robert Knight

Length – 26:38
Dr. Todd Kincaid

Length – 47:41