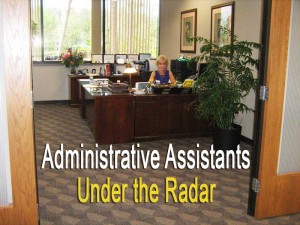 One of the largest workplace observances is "Administrative Professionals Week" in April of each year. We go under the radar and behind the scenes at Orlando Catholic Diocese and Lockheed Martin Simulation-Training-and Support to get to know the administrative assistant and the boss for whom each assistant works. Feature length – 22:53

---
Depending on your age, you may remember this workplace recognition as "secretaries' day." The "day" has grown into a week – April 18-24, to be exact — and the name has changed to "administrative professional"…perhaps, all in recognition of the change over the years in what this position does.
Today, according to U.S. Department of Labor statistics, there are more than 4.1 million secretaries and administrative assistants working in the United States, and 8.9 million people working in various administrative support roles. Millions more administrative professionals work in offices all over the world.
Administrative Professional Week is always the last full week in April. And, in 2010, Administrative Professionals Day is Wednesday, April 21.
On the Central Florida Matters' Website you may listen to or download Steve's extended interviews with all four of guests along with a bio of each. You'll also find still photographs taken in their office or conference room during the interviews.
Also on the site, we've provided links to external Webpages offering relevant information about Administrative Professional Week and our guests' respective workplaces. While at the site, please leave a comment about the piece and we encourage you to email a link to the feature to a friend or colleague.
Extended Interview & Pictures
Click on the picture(s) to enlarge.
Dale Bennett and Stephen McKenney Steck

Extended interview (19:35)
President, Lockheed Martin Simulation-Training and Support

Linda Lamond and Stephen McKenney Steck

Bennett's administrative assistant
Extended interview (32:46)

Thomas Wenski and Stephen McKenney Steck

Bishop, Catholic Diocese of Orlando
Extended interview (21:33)

Cristina Caban and Stephen McKenney Steck

Bishop Wenski's administrative assistant
Extended interview (42:22)
Additional Feature Information