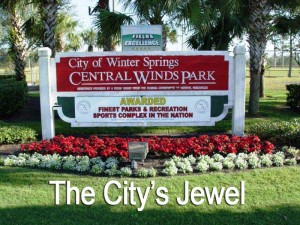 Central Winds Park serves the residents of and visitors to Winter Springs Florida as a premier sports venue. Beautifully maintained competition fields for baseball, softball, football, soccer and lacrosse games and 27 acres of practice fields play host to hundreds of thousands of athletes and spectators each year. The staff of the parks and recreation department takes great pride in providing this award winning facility. Listen to the players and the personnel talk about this jewel in the city's crown. Feature length – 16:19

---
Central Winds Park in Winter Springs, Florida is 100 acres of sports fields, picnic and playground areas in the heart of the community. It is open seven days a week and plays host to the vast majority of the over 400,000 people who utilize the city's parks. Central Winds opened in 1992 and a few years later added lights to extend the hours of play. As well as beautifully maintained competition fields for baseball, softball, football, soccer and lacrosse games, there are 27 acres of practice fields.
Central Winds is the site of the annual 4th of July fireworks which attracts visitors from all over Central Florida. The park also hosts the Highland Games which is the largest outdoor event in Seminole County.
For the past eleven years Chuck Pula has been the Director of Parks and Recreation for the City of Winter Springs with the responsibility for parks, the senior center, youth and adult sports, the civic center and all special events. Central Winds park is famous throughout the U.S. and has won awards for its maintenance program. A Canadian football league team uses the fields when they come south for practice.
Maintenance of the facilities is the responsibility of Alan Greene, Superintendent of Parks and Grounds. The professional operations staff takes great pride in the outstanding condition of the park. They face real challenges from Florida's climate, vandals and a hectic schedule of games that keeps them working constantly to maintain the fields.
In addition to sports facilities Central Winds has a large picnic and playground area with nature trails, an amphitheater and a brand new dog park.
Central Winds Park is truly the city's jewel. The city government even in tight budget times supports the park because of its importance to the residents.
Extended Interview & Pictures
Click on the picture(s) to enlarge.
Chuck Pula and Desta Horner

Director of Parks and Recreation, City of Winter Springs
Extended interview (19:16)

Alan Greene and Desta Horner

Superintendent of Parks and Grounds, City of Winter Springs
Extended interview (30:45)
Additional Feature Information