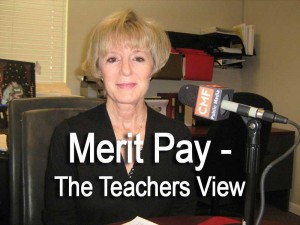 From tenure to seniority to FCAT, there are many concerns for teachers in Florida.  Gay Parker former president of the Seminole Education Association discusses the teachers' position on these contentious issues in a One-on-One interview, Ms. Parker explains teachers' alarm over recent legislative proposals. Feature length – 14:58

---
Merit pay is a contentious and complicated issue that received increased attention in Florida with the passage by the legislature of Senate Bill 6. This proposal would have given salary bonuses to teachers whose students showed measurable learning gains on FCAT or end of year subject tests.
The teachers of Florida, led by their union organization The Florida Education Association, strongly opposed the plan. They launched a successful campaign to have Governor Crist veto the bill.
The local branch of the teachers' organization is the Seminole Education Association. For the past 3 years Gay Parker has been president of the SEA. She has also been a teacher in Seminole County for 35 years. Her experience and official position makes her a knowledgeable voice for the teachers' point of view on the topic of merit pay.
The pressure for teacher accountability is growing and will be a key requirement of the Reach to the Top federal grant monies. The issue of merit pay will be at the top of the education agenda for the next few years. Gay Parker sees teachers taking an active role in politics in the upcoming elections to make sure their interests defended in the upcoming decisions.
Extended Interview
Gay Parker and Desta Horner
president, Seminole Education Association, extended interview
Extended interview (20:09)
Additional Feature Information