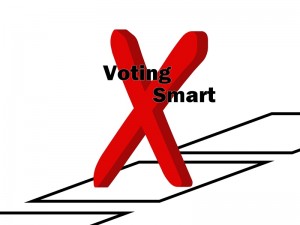 Voting Smart interviews Michael Ertel, Supervisor of Elections for Seminole County Florida in what results in a civics lesson – on issues surrounding voting in the upcoming local elections. Ertel is the go-to-guy who assures your vote is counted and counted correctly, that local candidates play by the rules in seeking your vote, and that your voting experience is as flawless as possible. Feature length – 31:20
---
At age 40, Michael Ertel has served 5-years as Supervisor of Elections for Seminole County, since being appointed by the governor to fill the unexpired term of the previous election supervisor.  Ertel has been subsequently elected and reelected to the office in the ensuing years. His current annual salary is $120,000 set by the state statue based on a population formula. He has voluntarily forgone several legislatively proffered salary increases to remain in line with salary freezes imposed on his own staff which is funded by the county commission.
Ertel grew up in Seminole County Florida. He is a military veteran, a former public relations professional and a lifelong Republican- though he asserts his office is administered in a non-partisan fashion. This is his first elected office. His present term of 4-year expires in 2012. He has not yet announced his reelection intentions.
Producer–reporter Stephen McKenney Steck held the interview in Ertel's Sanford, Florida office located on the property of the Orlando Sanford International Airport.  The extended interview lasted almost 90 minutes and is posted below, though 27-minutes was excerpted for this Voting Smart feature.
In the feature, Ertel's answers illuminate a broad collection of issues ranging from what keeps him up at night to what your rights and responsibilities are as a voter. And from the role technology plays in the registration and voting process to how you should evaluate the effectiveness of candidates. You'll also learn from Ertel how precincts are defined…the many ways you are able to vote…and whether or not he can be influenced or can influence candidates as regards their election campaigns.
In Ertel's extended comments he adds more insight into the issues he has addressed, and he also offers responses about his personal and political journey to the position he now holds… the history of the supervisor of elections office…his own feelings about the difference between being appointed and then later elected…how he supervises his own election…and the partisan aspects of his office.
In another program, Ertel is featured on our Heard in Central Florida page in our unedited coverage of his explanation about pending state constitutional amendments.
Note that Heard in Central Florida has and will be posting unedited comments from candidates standing for election or reelection in Seminole County to the positions of judges, state legislators, school board members, county commissioners and city council positions in selected cities in Seminole County.  Links to these programs are below. Future Voting Smart segments will feature one-on-one interviews with local candidates in those positions, too.
Bios
Michael Ertel

Supervisor of Elections, Seminole County, Florida
Additional Feature Information
Links to other features produced by CMF Public Media featuring Michael Ertel or addressing issues related to local candidates and elections
Extended Content & Pictures
Click on the picture(s) to enlarge.
Michael Ertel and Stephen McKenney Steck

Extended interview (01:25:02)