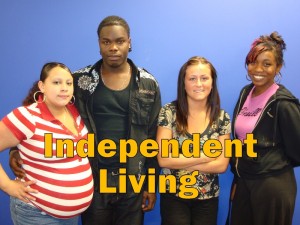 When young people in foster care leave the system at age 18 they face the difficult task of forging an independent life. Philip, Kristina and Stephanie discuss the deeply personal challenges of creating a successful life after foster care. Their safety net is the support they receive from the Independent Living Program administered by Community Based Care of Central Florida. Keri Flynn of CBC describes the support IL gives to the 45 young people in Seminole County who have "aged out" of foster care. Feature length – 22:54
---
(Produced, reported and edited by Desta Horner)
In Central Florida there is some help for these young people from the Independent Living program. It is funded by the state of Florida and a federal Chafee Bloc grant and administered by Community Based Care of Central Florida or CBC. This program provides young people who have aged out of foster care with support through $1000 monthly stipends for those getting work training or education, guidance in getting housing and learning life skills like money management, cooking, hygiene.
In this feature you will hear Stephanie Young (age 21), Kristina Lyons (age 20) and Phillip Huxtable (age 21), three young people who have aged out of foster care in Seminole County. Each of them have a job and are attending college or job training. They describe their dreams and their challenges as they strive to become successful independent adults.
On the accompanying podcast, below, you will hear Keri Flynn Independent Living consultant for Community Based Care of Central Florida. She provides greater detail about the function and services of the IL program from the point of view of an administrator and counselor.
Chapin Hall of the University of Chicago in collaboration with the University of Washington, conduct the Midwest survey which followed the progress of young people who had aged out of foster care over many years. The study is called "Midwest Evaluation of the Adult Functioning of Former Foster Youth." Its findings illustrate the uphill battle of these young people to achieve a stable and successful life. A link to the study is below.
Extended Interview & Pictures
Click on the picture(s) to enlarge.
Keri Flynn and Desta Horner

Extended interview (08:51)

Stephanie Young, Kristina Lyons, Phillip Huxtable and Desta Horner

Extended interview (28:43)
Additional Feature Information