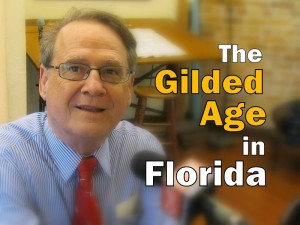 Gary Mormino, history professor emeritus at USF, speaks at Winter Park's Casa Feliz on the Gilded Age of Florida: the era of Henry Flagler, the rise of tourism, resort hotels like the Seminole in Winter Park, the orange as marketing icon for the state, & the story of Walt Disney's father during the Great Freeze of 1895. Feature length - 20:09.
On Nov 14, 2012 Winter Park's historic Casa Feliz welcomed Professor Gary Mormino for a presentation on the Gilded Age in Florida. The program was sponsored by the Friends of Casa Feliz and the Winter Park Historical Association. A standing room only crowd enjoyed Dr. Mormino's comments and his presentation of the personalities and architectural landmarks of this era that left their stamp on Florida.
Dr. Mormino is professor emeritus at the University of South Florida where he taught for 35 years and was co-founder and director of the Florida Studies Program. He is best known for his prize winning book on the social history of Florida entitled "Land of Sunshine, State of Dreams."
After the presentation in the main room, Dr. Mormino sat for an interview with CMF Public Media in the library at Casa Feliz.
Principal Speaker
Gary Mormino

professor emeritus of history, University of South Florida

Bio
Additional content related information
Links to CMF podcasts featuring issues related to Central Florida history
Pictures
After you launch the slideshow below, click "Next" and "Previous" to rotate through the photos.
Extended Interview
Gary Mormino with Desta Horner

Length – 26:34