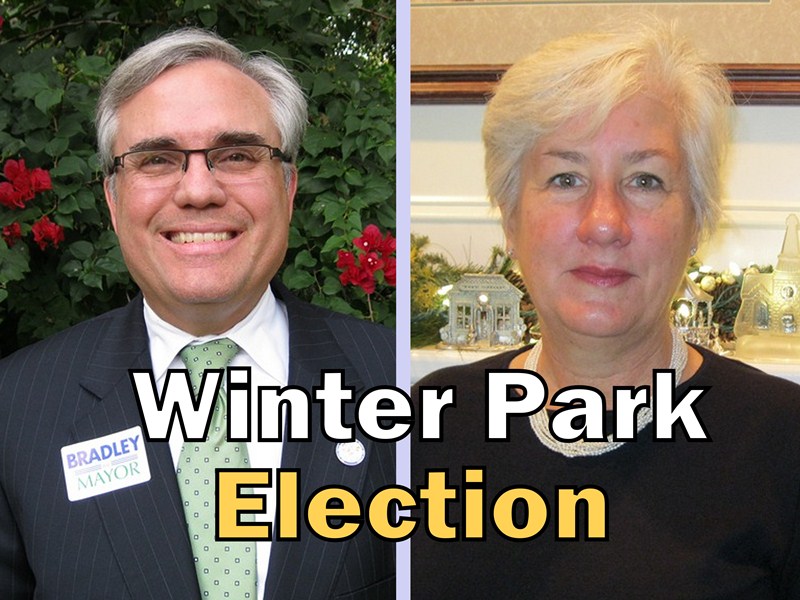 On January 31, 2012, voters in the city of Winter Park will elect a mayor to serve for the next three years. The candidates are the incumbent mayor Ken Bradley and the challenger Nancy Miles. In separate interviews each candidate discusses issues such as the fiscal health of the city, the State Office Building swap, the Fairbanks corridor, Sunrail and their vision for the city's future.
---
This year marks the 125th anniversary of the incorporation of the city of Winter Park. The city has a population of 28,000 and a city government staff of 520 employees. The current operating millage rate is 4.0923 and the general fund budget for 2011-12 is $42.5 million.
The mayor serves a 3 year term and has a 12 year term limit and is an equal voting member of the 5 person city commission. The salary for the mayor is $3000 per year.
In the following interviews, each candidate will respond to a series of questions on the key issues facing the city. The candidates are heard in the order in which their names will appear on the ballot on January 31, 2012.
Principal speakers
Additional Feature Information
CMF Public Media podcasts related to the feature
Extended Interview & Pictures
Ken Bradley and Desta Horner

Candidate for Mayor of Winter Park

Length 40:24

Nancy Miles and Desta Horner

Candidate for Mayor of Winter Park

Length 22:44