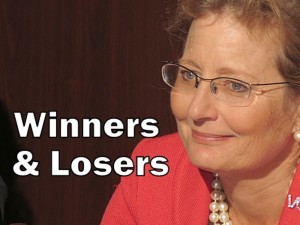 Deirdre Macnab, president of the League of Women Voters of Florida give the League's perspective on winning and losing legislation coming from the recently adjourned session of the 2012 Florida Legislature. Length: 39:30
---
Title and event photographs courtesy Charles E. Miller
In her 19-minute remarks, Florida League President Deirdre Macnab will address recent statewide legislation, categorizing them into winners and losers… at least from the league's perspective.
Macnab addresses the state's annual budget, redistricting, the so called "parent trigger," prison privatization, the elderly, juvenile inmates, texting while driving, auto racing as the state's official sport, private school corporations, environment - energy and the Everglades, small business tax breaks, tax deductions for owners of private planes, and the University of South Florida's newly funded Lakeland campus. In a final 12-minutes of answers to questions from the audience, Macnab also responds to questions regarding voter suppression legislation, TABOR-the Tax Payers Bill of Rights, affordable health care, and gun control laws.
This is the 19th podcast Carroll McKenney Public Media has produced with the League of Women Voters of Seminole County, Florida. The event was moderated by Seminole league vice president, Jeanne Morris, at this Hot Topics luncheon recorded at the Patio Grill in Sanford, Florida, on Thursday, March 22, 2012
Principal Speaker
CMF Public Media podcasts featuring issues related to the Florida Legislature
Pictures
After you launch the slideshow below, click "Next" and "Previous" to rotate through the photos. Event photographs courtesy Charles E. Miller.