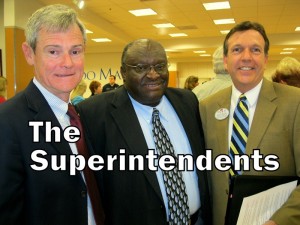 Three key administrators – Bill Vogel, Walt Griffin and James Lawson — responsible for leading public schools in two counties of Central Florida respond to questions posed by local business persons at a gathering held May 3, 2012 to learn about the state of education in the public school districts of Seminole and east Orange county. Length - 40:59
---
This 37-minute podcast features responses from Bill Vogel, the soon to be retiring superintendent of schools for Seminole County; his replacement Walt Griffin; and James Lawson, an area superintendent in adjacent Orange County.
The speakers take 19-minutes to respond to 10 previously prepared and submitted questions, and a final 15-minutes to address 5 questions posed by members of the approximately 75 people in attendance. A collection of still photographs of the speakers can be viewed below.
The questions seek updates regarding school operating budget shortfalls…future plans of the new county superintendent, Walt Griffin…teacher performance evaluation methods based on student test scores…the accomplishments of retiring Seminole County superintendent, Bill Vogel…the conflict between charter schools and traditional public schools… the status of Seminole County's "E-Pathway" initiative and… the future of "end of course" examinations.
Principal Participants
Pictures
After you launch the slideshow below, click "Next" and "Previous" to rotate through the photos.