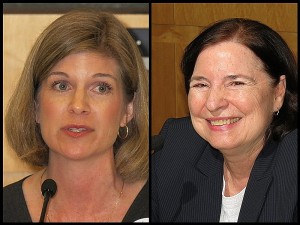 The candidates in the August 14, 2012 Seminole County School Board race are Amy Lockhart and Sylvia Pond. This feature presents separate interviews with each candidate and a recording of the school board candidate forum sponsored by the League of Women Voters of Seminole County and the PTA. Voters will gain insights into the position of the candidates as they discuss FCAT, the district budget crisis, the proposed 1 mil property tax hike and many other issues.
---
(Produced, reported and edited by
Desta Horner
. Candidate forum still photos – Charles E. Miller for CMF Public Media. Candidate forum recording assistance courtesy Kenneth Abreu, Seminole County Public Schools.)
In Seminole County, the 5 School Board members are each elected at-large to a 4 year term with an annual salary of $36,000. Members set policy for the schools and oversee a budget of almost $400 million and 4,500 employees.
The district faces a number of challenges. The expiration of the ¼ penny sales tax in January coupled with a decline in property tax revenue which this year alone will be $2.7 million has resulted in a serious budget crisis. FCAT scores for SCPS are the highest in Central Florida and rank 4th in the state but the pressure of testing is increasing with the addition of dozens of new end of year tests for high school. Merit pay mandates require additional accountability from teachers and staff who have not had a raise in over 4 years and were last year required for the first time to contribute 3% of their salary to the pension fund. While the state restored a portion of the budget cuts they made in 2011, they eliminated all capital funding for public schools which significantly reduced money for repair and renovation of existing schools. Meanwhile, the student population is again increasing after recent declines. A daunting task will face whoever is elected to the board.
Because the school board is a non-partisan race, all registered voters in Seminole County are eligible to vote in the August election. Early voting begins on Aug. 4.
In the following audio podcasts each candidate will discuss their position on the issues in a personal interview with reporter Desta Horner.
School Board Candidates
Candidate Forum
On July 23, 2012, the Seminole County League of Women Voters and the Seminole County Council of the PTA sponsored a forum for the school board candidates. The forum audience submitted questions and the candidates were each given 2 minutes to answer. The forum was held at the Educational Support Center of Seminole County Public Schools.

Length – 57:41
Additional Content related information
CMF Public Media podcasts related to education
Pictures
After you launch the slideshow below, click "Next" and "Previous" to rotate through the photos.
Extended Interviews
Amy Lockhart with Desta Horner

Length – 39:59
Sylvia Pond with Desta Horner

Length – 34:23