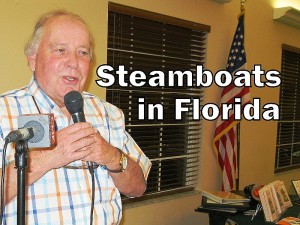 From the 1870's to the 1900's steamboats and paddle wheelers traveled the rivers of Florida. It was a time of hardscrabble farming and frontier tourism. Hear Ed L'Heureux give a presentation to the Oviedo Historical Society about this critical transportation link during the post civil war period in Florida. (length 17:29)
---
While there were steamboats in Florida prior to the Civil War, years after the war and into the early 1900s contained the peak years of there use on Florida's rivers. Of the many rivers in Florida, the St. Johns from Jacksonville to Sanford served as a main trading and transportation route for the northeastern part of the state. Steamboats carried prized manufactured goods into the frontier settlers and carried their products to markets in the north. Tourists came to Florida in the winter and enjoyed rides on the steamboats and stayed at hotels in towns along the length of the river.
Speaking before the Oviedo Historical Society on September 20, 2011, Ed L'Heureux talked about the steamboat and paddle wheel era in Florida. Mr. L'Heureux is an author and Florida history buff who has spoken for many years to audiences and college classes about the many aspects of Florida's glorious past. He has been interviewed on television and radio on a wide range of Florida topics and has written 11 books on the history of Florida published by his company Sabal Palm Press.
Principal Speaker
Ed L'Heureux

Author and historian
Links to podcasts produced by CMF Public Media featuring issues related to the history of our communities:
Pictures
After you launch the slideshow below, click "Next" and "Previous" to rotate through the photos.