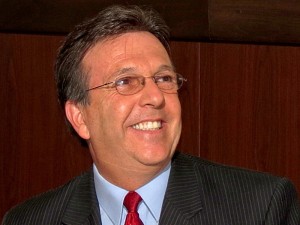 Walt Griffin was appointed superintendent of Seminole County Public Schools in July 2012. At a recent Seminole County League of Women Voters Hot Topics luncheon, Griffin discusses his vision for the future of the district schools, their current status and the new ePathways initiative. (Length: 24:13)
---
(Still photos – Charles E. Miller for CMF Public Media)
Superintendent Griffin is introduced by Seminole County League of Women Voters president Jeanne Morris. He speaks for the first 20 minutes and then answers questions from the League members in the audience. During his presentation he also addresses the proposed millage increase which will be on the ballot in November, the concern about empty seats in the schools and he describes the ramping up of the district's Voluntary Pre-Kindergarten and Magnet School programs.
Below, are helpful links to additional on-line content regarding issues addressed by Walt Griffin, as well as an on-line slide show of photographs taken at the event by CMF's event photographer, Charles E. Miller. You will also find links to other CMF podcasts features on topics related to Seminole County Public Schools.
This Hot Topics luncheon was recorded at the Patio Grill in Sanford, Florida, on Thursday, August 23, 2012. League president, Jeanne Morris, facilitated the event.
Principal Participants
Additional Content related information
CMF podcasts related to Seminole County Public Schools
Pictures
After you launch the slideshow below, click "Next" and "Previous" to rotate through the photos.