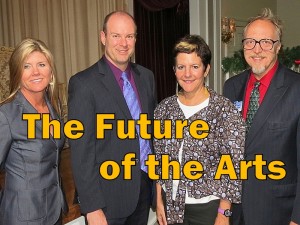 Art! Music! Dance! The Future of the Arts in Central Florida was the topic of a panel discussion featuring Flora Maria Garcia, President and CEO of United Arts of Central Florida; Terry Olson, Director of the Orange County Arts and Cultural Affairs; and Kathy Ramsberger president of the Dr. Phillips Performing Arts Center. They commented on the potential of the Central Florida community to support and promote the arts and artists (length 38:54)
---
(Produced, reported and edited by
Desta Horner
. Still photos – Charles E. Miller for CMF Public Media. Audio support –
Terry Kyle
, 911TechMed.)
This 36 minute presentation was moderated by Matt Palm, fine arts reporter and critic for the Orlando Sentinel. The panelists discussed the ability of Central Florida to generate support and funding for the arts and a comparison between Orlando and other cities as a place where the arts can flourish. They described the new Dr. Phillips Performing Arts Center and its impact on the arts scene when it opens in 22 months. They also evaluated the challenges for arts organizations and artists in Central Florida and touched on some of the exciting new cultural events coming soon.
This presentation was recorded before an audience of 200 league members and guests on Wednesday, December 12, 2012 at the Sorosis Club in Orlando Florida as part of a Hot Topics Luncheon hosted by the League of Women Voters of Orange County Florida.
Principal Participants
CMF podcasts featuring issues related to the arts
Pictures
After you launch the slideshow below, click "Next" and "Previous" to rotate through the photos.