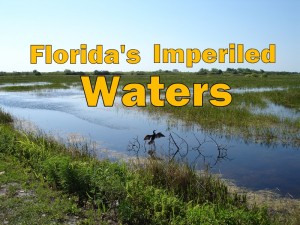 The springs, rivers and lakes of Central Florida are some of our most valued and fragile resources. A panel of experts discusses the challenges and prospects for water resources in our region. The issues include freshwater for homes, business and agriculture, the importance of a water ethic and the ways in which water is conserved and reclaimed (Length 22:50)
---
The panel on water resources was convened by the Natural Resources Committee of the League of Women Voters of Orange County. The participants are Cynthia Barnett a journalist and award winning author of books on freshwater issues including her newest book, Blue Revolution; Erik Jacobsen a life long cattle rancher and currently vice president and general manager for the Deseret ranch in St Cloud, Fl.; and Rob Teegarden an environmental engineer who serves as vice president of Water resource policy, planning and permitting at Orlando Utilities Commission. OUC serves a population of about 430,000 water users in the Orlando area.
The 20 minute presentation is moderated by Sister Patricia Siemen Director of the Center for Earth Jurisprudence at Barry University Law School. Members of the Orange County League are invited to ask questions of the panel members in the second half of the presentation.
This presentation was recorded before an audience of 200 league members and guests on Wednesday, January 9, 2013 at the Sorosis Club in Orlando Florida as part of a Hot Topics Luncheon hosted by the League of Women Voters of Orange County Florida.
Principal Participants
Rob Teegarden

Vice President/water resources policy, planning & permitting, Orlando Utilities Commission

Web
Patricia Siemen

Moderator & director of the Center for Earth Jurisprudence, Barry University School of Law

Web
Pictures
After you launch the slideshow below, click "Next" and "Previous" to rotate through the photos.
CMF podcasts featuring issues related to local environmental issues.