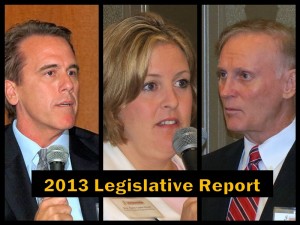 Education funding and policy, Medicaid, ethics reform and Citizens insurance are some of topics covered by Seminole County legislators as they report on the 2013 session of the Florida legislature. Sen. David Simmons, Reps. Karen Castor Dentel and Mike Clelland discuss the hits and the misses and their efforts to bridge the partisan divide in a year in which rising state revenues provided more money to restore funding for programs (length 24:47).
---
Each legislator gave a summary of the achievements the session and some items still to be resolved. Representatives Castor Dentel and Clelland discussed their reaction to their first session as newly elected legislators.
This presentation was recorded on Thursday, June 6, 2013 before an audience of 100 members and guests at the "Good Morning Seminole" membership breakfast of the Seminole County Regional Chamber of Commerce held at the Orlando/Lake Mary Westin Hotel.
Principal Speakers
David Simmons

Florida Senate, District 10

Web
Karen Castor Dentel

Florida House of Representatives, District 30

Web
Mike Clelland

Florida House of Representatives, District 29

Web
Additional Content related information
CMF podcasts featuring issues related to Seminole County Legislative Delegation
Pictures
After you launch the slideshow below, click "Next" and "Previous" to rotate through the photos.