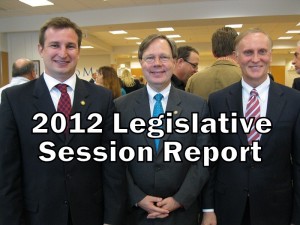 Hear Seminole County legislators Rep. Scott Plakon, Sen. David Simmons and Rep Jason Brodeur report on the outcome of the 2012 session of the Florida Legislature. Length: 44:25
---
First you will hear Rep. Scott Plakon comment on the budget, redistricting and the comprehensive energy program for the state. Next, Sen. David Simmons gives a detailed up-date of education funding and education policy. Finally, you will hear Rep Jason Brodeur comment on the reform of Workforce Florida and job creation. Individual presentations by these legislators last 25-minutes, followed by 16-minutes of responses to questions from the audience.
This legislative forum was recorded at the luncheon meeting of the Oviedo-Winter Springs Regional Chamber of Commerce on April 5, 2012. Legislators are introduced by chamber member Regina Bereswill, VP/Government Affairs. Audience questions are moderated by chamber president, Cory Skeates.
Principal Speakers
Scott Plakon (R)

state representative, district #37

Web
David Simmons (R)

state senator, district #22

Web
Jason T. Brodeur (R)

state representative, district #33

Web
CMF Public Media podcasts featuring issues related to the Florida Legislature
Pictures
After you launch the slideshow below, click "Next" and "Previous" to rotate through the photos.