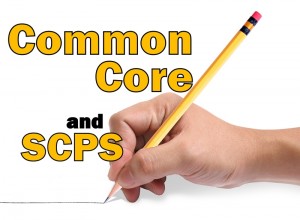 The Common Core State Standards were adopted by Florida to establish common requirements for the skills students will need for future success in college and careers. This feature explains how and why Seminole County Public Schools are developing the local curriculum and materials that will assist students in meeting the new goals. Feature length 23:44
---
(Produced, reported and edited by
Desta Horner
, Title graphic "Writing" courtesy Michael Lorenzo)
The Common Core State Standards (CCSS) were developed by the states through an initiative of the National Governors Association and the council of state chief school officials. Their plan was to develop one common set of goals and standards focusing on essentials skills to be used across all states. As stated by the developers, "The standards are designed to be robust and relevant to the real world, reflecting the knowledge and skills that our young people need for success in college and careers.
The Florida Department of Education participated in the development of these new standards which are for English language arts and math. The FDOE reviewed, helped revise and then adopted the final Common Core State Standards in 2010. These Standards will be fully implemented in all public schools in Florida, including Seminole County, in the 2014-15 school year.
However, each local school district must design the instructional plans and select the content which will be used in the classroom to help students to learn and develop the skills required by the new standard. The district, with FDOE assistance, provides training in the new standards and teachers in their Professional Learning Communities develop curriculum for their particular subject and grade level.
A primary concern is the creation of a common test to assess whether students have met the goals and acquired the skills listed in the CCSS.
Principal Speakers
Dr. Anna-Marie Cote

Deputy superintendent, instructional excellence and equity, Seminole County Public Schools

Web | Bio
K.T. Caldwell

President, Seminole Education Association

Web
Extended Interviews
Dr. Anna-Marie Cote with Desta Horner

Length – 24:36
K.T. Caldwell with Desta Horner

Length – 29:54
Additional feature Information
CMF podcasts related to Common Core