Posts Tagged 'Full Program'
These are the issues and voices featured in a traditional radio-style format in this 1st anniversary edition of Central Florida Matters, posted on line 8/19/2010.
Feature length – 01:55:07
Read the rest of this entry »
These are the issues and voices featured in a traditional radio-style format in this complete version of Central Florida Matters, posted on line 7/29/2010. Feature length – 01:22:58
---
Presented and hosted by Stephen McKenney Steck and Desta Horner
These are the issues and voices featured in a traditional radio-style format in this complete version of Central Florida Matters, posted on line 6/17/2010. Feature length – 01:42:33
---
(Produced, reported and edited by Stephen McKenney Steck and Desta Horner)
Note: Desta and Steve will be taking a break from Central Florida Matters' usual every 3-week edition of the program to enjoy a week or so at the beach with children and grandchildren and without microphones! So the next edition of Central Florida Matters will post on Thursday, July 29, 2010 and every 3-weeks thereafter.
Feature length – 01:57:48
---
(Presented and hosted by Stephen McKenney Steck)
Program length – 01:06:42
Read the rest of this entry »
Feature length – 01:04:26
Read the rest of this entry »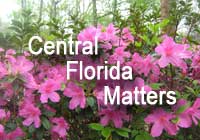 Program length – 01:10:15
Read the rest of this entry »
Advancing economic development in the cities of Oviedo and Winter Springs, Florida. Describing the method and importance of the 2010 Census to local communities. And commentary from political science professor, Dr. Michael Hoover. These are the issues and voices featured in a traditional radio-style format in this complete version of Central Florida Matters, posted on line 3/4/2010.
Feature length – 54:44
---
(Presented and hosted by Stephen McKenney Steck and Desta Horner )
Both Oviedo and Winter Springs, two adjoining cities in south east Seminole County, Florida are facing extraordinary budget challenges that accompany the nation's "Great Recession." But what about tomorrow? What does the future hold for the area? Are there steps citizens, elected officials, business owners, and chamber members should be taking today to help assure vibrant economic development tomorrow?
John M. Jones, a senior economic development planner with Land Design Innovations, Inc. and Jim Spaeth, president of Remora Partners, will address those questions in a 33-minute presentation.
Feature Length — 52:20
---
On Heard in Central Florida, you'll hear a presentation by Beth D. Davalos on the issue of homeless students in Seminole County Florida public schools. Ms. Davalos is the staff liaison for a Seminole County school system project known as Families in Transition. Her address took place on Thursday, January 28, 2010, in front of a luncheon audience of League members and public attendees at Sergios Italian Restaurant in Sanford, Florida. After Ms. Davalos presentation, she responds to questions from the audience.
Feature Length — 44:21
---
League event coordinators: Mercedes G. Bermejo and Patricia Graves
Selected photos:
GK Sharman