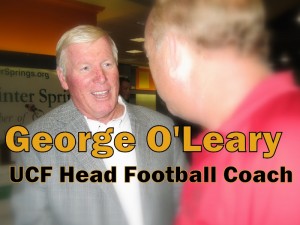 Hear remarks from George O'Leary, head football coach at the University of Central Florida offered recently at the Oviedo-Winter Springs Regional Chamber of Commerce members' luncheon.
Feature Length — 28:11
---
Coach O'Leary speaks informally for 20-minutes – which include 11 minutes of answers to audience questions, followed by closing remarks and chamber announcements from Cory Skeates, executive director of the chamber.
O'Leary address the challenges of building a football "tradition" at UCF and filling a new campus stadium with fans each game day. He comments on his recruiting practices and the involvement he expects from players' families in the process. O'Leary describes the need to enlarge the team fan-base and the discipline he applies to the team.
Coach O'Leary has served the UCF Knights seven years in the head coach role, taking the position in 2004 after arriving from the National Football League's Minnesota Vikings team where he was assistant head coach.
Last season (2010), he guided the Knights to the schools first 11-win season, plus the Conference USA Championship and coached the team to a Liberty Bowl win over the University of Georgia in front of a national television audience.
O'Leary's coaching experience kicked off in 1968 and has spanned 43 years
Now in its second year, this presentation marks the 13th podcast Carroll McKenney Public Media has produced featuring luncheon programs staged by the chamber which address a range of important issues relevant to the business community and the general population in the Oviedo and Winter Springs communities served by the chamber.
Principal Participants
George O'Leary

Head Football Coach, University of Central Florida

Cory Skeates

Executive Director, Oviedo Winter Springs Regional Chamber of Commerce
Content Related Links
Pictures
After you launch the slideshow below, click "Next" and "Previous" to rotate through the photos.

Chamber programs on the Heard in Central Florida web site: