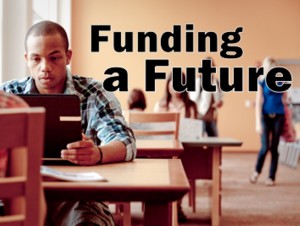 Can Seminole State College do more with less? Enrollment is up but the state has cut funding and the stimulus money is gone. VP for Administrative Services and CFO Joe Sarnovsky explains how the college is dealing with the squeeze on resources while maintaining quality. Students like Cher, Joseph and Melanie tell us how they are shouldering a larger share of the costs in order to secure a degree and a better job in the future. Length – 18:43
---
Produced, reported and edited by
Desta Horner
, Title photo – courtesy Seminole State College
Seminole State College is the first stop for forty percent of students who graduate from Seminole County Public Schools. And it feeds eighty percent of its AA degree students to the University of Florida. In addition almost half of the students are over 24 and a third is enrolled in dozens of job training programs.
In the current economic recovery, the number of full time students is up to capacity.
However, Seminole State College like the other 2 year colleges around the state have been told by the Florida legislature that they must do more with less. Funding from the taxpayer is being cut and the students will make up the difference with an 8% hike in tuition. Over the past ten years the state has shifted from paying 3/4ths of the cost per student at community colleges to paying less than half the cost. Student tuition now covers 53% of the per student cost. The amount of money derived by community colleges from tuition in 2007 was half a billion dollars, next year it will reach almost a billion. In addition, colleges have used up the stimulus money from the federal governments Recovery and Redevelopment Act.
The students' sources of financial aid are also shrinking. Bright Futures Scholarships from the state will be reduced by 20% and federal Pell Grants are being cut back. Many find that full time jobs and living at home are necessary to pay costs of tuition, books and transportation.
But, a two or four year degree is vital in today's economy. Three decades ago, full-time workers with a bachelor's degree made 40 percent more than those with only a high-school diploma. Today that gap is 83 percent. If you invest your money in the stock market the average rate of return is 7% if you invest that same money in higher education your rate of return is 15% because of your greater earning power. A degree from AA to doctorate is a valuable indicator of earning power. (See the link below, "Even for Cashiers, College Degrees Pay off."
Joseph Sarnovsky, Vice President of Administrative Services and Chief Financial Officer at Seminole State College, describes the efforts of Seminole State to use careful planning to serve 53% more students with only a 33% larger budget. And his belief that the community college is the best bargain in higher education. Three students, Cher a recent graduate, Joe a returning adult and Melanie a current student explain their hopes for the future and their struggles to meet current costs.
Additional Feature Information
Joseph Sarnovsky

Vice President of administrative services and chief financial officer, Seminole State College

Cher Foster

Recent SSC graduate
Joe Sweedis

Current SSC student

Melanie

Current SSC student
Additional Pictures
Click on the picture(s) to enlarge.
Extended Interview
Click on the picture(s) to enlarge.
Joseph Sarnovsky, vice president of administrative services and chief financial officer, Seminole State College and Stephen McKenney Steck

Extended interview (20:19)