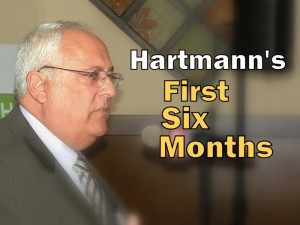 Hear the perspectives of Seminole County government's new manager, James K. Hartmann on a range of issues he has encountered in his first 6-months on the job – and the history and future of those issues. The event is hosted by the League of Women Voters of Seminole County. Length 01:04:30
---
Hartmann speaks for the first 44-minutes of this event, touching on such issues as his previous leadership experiences in county and municipal government, the new normal of living with staff reductions, the county's property tax values, economic development, place making, SunRail, the environment and recreation trails, roads and utilities, Seminole County public schools, public safety, and social services.
His remarks are followed by 9-minutes of answers to 5 questions you'll hear asked of him by league members on issues of homelessness, military veterans, on the job surprises he has encountered, the county's water supply, and the nuance of county and city governments working together toward a common goal.
Below, are helpful links to additional on-line content regarding issues addressed by James Hartmann, as well as an on-line slide show of photographs taken at the event by CMF's event photographer, Charles E. Miller.
This is the 17th podcast Carroll McKenney Public Media has produced with the League of Women Voters of Seminole County, Florida. This Hot Topics luncheon was recorded at the Patio Grill in Sanford, Florida, on Thursday, January 26, 2012. League president, Pat Graves, facilitated the event.
Principal Speaker:
James D. Hartmann

County manager, Seminole County government
League of Women Voters of Seminole County host and facilitator:
Pat Graves

President, League of Women Voters of Seminole County
External links related to this podcast:
Links to CMF podcasts featuring issues related to Seminole County government
Pictures
After you launch the slideshow below, click "Next" and "Previous" to rotate through the photos.