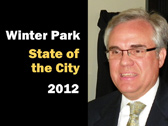 Hear the 2012 Winter Park State of the City Address presented by Mayor Ken Bradley. The Mayor's remarks were made at the Winter Park Chamber of Commerce luncheon on January 18, 2012, held at the Winter Park Community Center. Remarks by Winter Park city commissioners are also included. In a separate segment, hear the presentation of the Employee of the Year Awards and remarks by the luncheon sponsors. Feature Length — 31:15
---

In front of an audience of 300 people at the annual Mayor/Commissioner luncheon, Winter Park, Florida, Mayor Ken Bradley spoke of the achievements of his city's government during 2011and the many ways Winter Park is recognized as an exceptional city. He introduced five citizens from ages 6 to 106 who have contributed to making Winter Park exceptional.
His speech followed remarks by the four other members of the city commission — Steven Leary, Sarah Sprinkel, Carolyn Cooper and Tom McKaken — each speaking for 2 minutes about the accomplishments of the past year.
City Manager Randy Knight also presented the city's Employee of the Year Awards to three exceptional staff members — Caleena Shirley (employee of the year); Jeff Spinelli (fire/rescue), and Randall Morrissey (police).
In addition, the Winter Park Chamber of Commerce offered comments by the luncheon's principal sponsors — Tim Dolan from Waste Pro, and Becky Wilson of Lowndes, Drosdick, Doster, Kantor and Reed.
The host of the luncheon was Maritza Martinez, chairman-elect of the Winter Park Chamber of Commerce.
State of the City Address
Length: 31:15
Principal Speakers
Kenneth W. Bradley

Mayor, city of Winter Park
Commissioners and Bios
Carolyn Cooper

Commissioner

Steven Leary

Commissioner

Tom McMacken

Commissioner

Sarah Sprinkel

Commissioner
Employees of the Year Presentation
Length: 21:50
Caleena Shirley

Employee of the Year

Jeff Spinelli

Fire-Rescue

Randall Morrissey

Police Department
Content Related Links
Podcasts Featuring Winter Park
Pictures
After you launch the slideshow below, click "Next" and "Previous" to rotate through the photos.