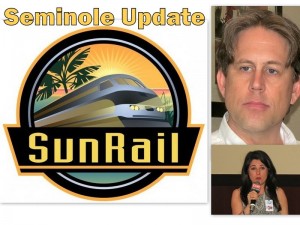 It's time for a Seminole County update on the construction status of SunRail – a 61 mile commuter rail corridor running north-south from Volusia County through Osceola County with 5 stops in Seminole County. SunRail trains are scheduled to start running in spring 2014. To many drivers on Interstate-4 the hope is that it will create a ready alternative for those needing to move more safely, efficiently and quickly from home to work along the now congested I-4 corridor. (length – 40:17)
---
Listen to Mike Wacht, public involvement specialist for SunRail and his colleague Nicole Masters speak to the February 2013 Hot Topics luncheon of the League of Women Voters of Seminole County on the issue of SunRail and its construction status, particularly as it relates to Seminole County.
In this 35-minute podcast, Wacht and Master's comments are 21-minutes in length and cover construction updates for passenger stations in Seminole county; station amenities, parking and passenger car aesthetics; operating hours; ticket expenses; transit times between stations; and how best to connect with SunRail from home or work. Their remarks are followed by another 14-minutes of answers to 8 questions asked by league members addressing such SunRail-related issues as passenger security, handicapped access, toll lanes on Interstate-4, and environmental standards. The event was moderated by league president, Jeanne Morris.
Principal Participants
Jeanne Morris

Moderator & president, League of Women Voters of Seminole County

Web
Pictures
After you launch the slideshow below, click "Next" and "Previous" to rotate through the photos.
Additional Content related information
CMF podcasts featuring issues related to SunRail or local transportation.