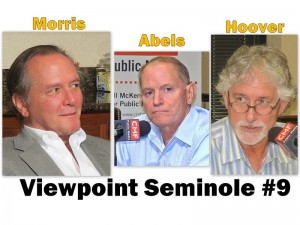 Hear the viewpoints of panel members Dr. Mike Abels, Dr. Michael Hoover and Randy Morris on metro area's low-wage job market, soccer stadium funding, downtown Sanford's hotel dilemma, and new charter schools. Plus shout outs, call outs and a look around the corner (length – 41:19).
---
(Produced, reported and edited by
Stephen McKenney Steck
, Event photos – Charles E. Miller for CMF Public Media)
Viewpoint Seminole is a monthly podcast featuring a panel of Seminole County voices sharing their viewpoints about current issues confronting our communities.
After discussing the latest issues, panelists offer a brief congratulatory "shout out," a constructive "call out" on other issues of their choosing and each "look around the corner" on local issues they will follow in the months to come
The full length discussion of each issue is posted below in separate podcasts.
This edition of Viewpoint Seminole was recorded on Friday, October 4, 2013. This feature was edited by the moderator for brevity and focus. The views and opinions expressed on Viewpoint Seminole are those of the panelists.
Viewpoint Seminole Panel
Dr. Mike Abels

Instructor in public administration, University of Central Florida, with an extensive level of experience in local government having served 17 years in city manager roles in Longwood, Deland & Palm Bay Florida.

Bio
Dr. Michael Hoover

Professor of Political Science, Seminole State College.

Bio
Randy Morris

Business and public affairs consultant, RM Strategies, former mayor and commissioner of the city of Lake Mary, former 3-term commissioner on the Seminole County Board of County Commissioners (1994 to 2006).

Bio
Stephen McKenney Steck

Moderator, senior producer - CMF Public Media

Bio
Unedited discussion of each issue
Metro area's low-wage job market
Length – 13:08
Soccer stadium funding
Length – 16:00
Downtown Sanford's hotel dilemma
Length – 10:23
New charter schools
Length – 13:47
Click here for a roster of all Viewpoint Seminole panel members
Each month, CMF offers Viewpoint Seminole as a forum for civil and informative local commentary from a panel of credible local voices that have a stake in Seminole County. Each month we'll call upon the panel's experience and insight and listen as they offer their "viewpoint" on the politics, policy, people and consequences that affect those of us who embrace life in Seminole County.
Photographs of the panel taken during their discussion are presented below in an on-line photo album.
You may email a link to this feature to those you know who have an interest in the issues discussed. Use the "share" option below. And "reply" below to CMF Public Media with your comments about this feature, adding suggestions about issues you believe worthy of future discussion by panel members.
Previous Viewpoint Seminole Podcasts
Pictures
After you launch the slideshow below, click "Next" and "Previous" to rotate through the photos.