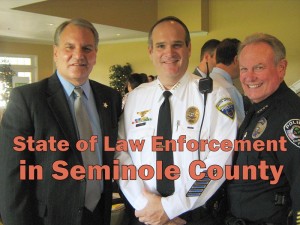 Hear remarks featured in 2010 at the Oviedo-Winter Springs Regional Chamber of Commerce  luncheon on the state of law enforcement in Seminole County, FL. Luncheon speakers are Donald F. Eslinger, Seminole County Sheriff; and police chiefs Jeffrey Chudnow of the city of Oviedo, and Kevin P. Brunelle of the City of Winter Springs. Feature Length — 47:44) 
---
After introductions, their 30-minute presentation begins with Sheriff Eslinger speaking for 5- minutes during which he addresses issues related to the department's mission, community partnerships, crime rate statistics in unincorporated Seminole County, the trans-jurisdictional nature of crime, and his concerns about increasing drug addiction, civic rudeness and the growing numbers of incarcerated inmates.
Eslinger is followed by Chief Chudnow of Oviedo. Chudnow speaks 4- minutes on the subjects of the cooperation level between the cities and the Sherriff's office, coordination between the cities to reduce the illegal sale of prescription drugs and pills, car burglary and the importance of resident involvement in lowering crime rates.
Chief Brunelle of Winter Springs also speaks 4-minutes on his department's involvement with public school programs, 2009 crime rates, and the success of his "lock it or lose it" campaign to lower theft from vehicles.
There is a 15-minute session given over to the speakers' answers to questions from the luncheon audience. Those questions center on graffiti abatement programs, gang reduction initiatives, school resource officers (SRO), programs to advance safety and security guidelines for small business owners, residential safety programs, speed limits and traffic directions in and around school zones, and "citizens on patrol" programs.
The event concludes with 12-minutes of remarks from the event sponsor – the Oviedo/Winter Springs Optimist Club in regards to the club's 6th annual Central Florida Law Enforcement Car Show, plus the Chamber's student of the month recognition, a rundown of upcoming chamber events, and the introduction of new chamber members.
This presentation was recorded Thursday, November 18, 2010 at the monthly membership luncheon of the chamber of commerce at the Tuscawilla Country Club in Winter Springs, Florida before a luncheon audience of 65 chamber members and guests.
Key Participants
Donald F. Eslinger

Seminole County Sheriff

Chief Jeffrey Chudnow

city of Oviedo

Chief Kevin P. Brunelle

city of Winter Springs
Facilitating Participants
Cory Skeates

Executive Director, Oviedo Winter Springs Regional Chamber of Commerce

Paul Sladek

Moderator and Chamber Vice President - Government Affairs

Luncheon Sponsor:
Student of the Month Presentation
Tammy Potosky

member chamber education committee, TLP Coaching & Learning Solutions

School

Joan Walker Elementary School

Student

Kurt Corley, 5th grade, with parents Annabelle & Jason Corley
Pictures
After you launch the slideshow below, click "Next" and "Previous" to rotate through the photos.

Additional Feature Information
This presentation marks the 9th in a series of collaborations Carroll McKenney Public Media has initiated during 2010 with the Oviedo/Winter Springs Regional Chamber of Commerce through a series of on-going programs staged by the chamber to address a range of important issues relevant to the business community and the general population in the Oviedo and Winter Springs communities served by the chamber.
Chamber programs on the Heard in Central Florida web site: