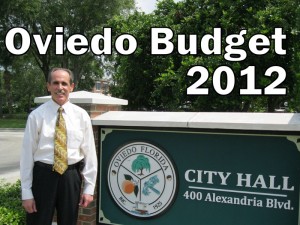 Late summer is the time each year for most cities to prepare and propose their annual revenue and expense budgets for elected representatives and taxpayers to review and, eventually approve. The summer of 2011 is no different for Bob Bentkofsky, assistant city manager and budget director for the City of Oviedo, Florida. He leads you and me through the proposed budget. It's proposed to be approved by city council in late September, with the council's first hearing set for Thursday, September 8 at 6:30pm at city hall. Feature length - 26:10
---
In his role as assistant city manager and budget director, Bentkofsky is the number 2 staffer on the city's leadership roster and the go-to-guy for all things "budget." It's a responsibility he's had for the past 7 years with the city.
In companion podcasts, CMF Public Media presents a review of the budgets for two other cities — hear Winter Springs' mayor, Charles Lacey, and Sanford's interim city manager, Tom George, step up to that task.
Oviedo is one of seven cities in Seminole County, each going through this same budget proposal and reviews process. The city claims a population of about 34,000 residents and a budget of about $62 million dollars. Coupled with its "old Florida" heritage, the city is ranked by several credible and nationwide sources in top-10-places-to-live categories. Yet, like almost all government jurisdictions, the city has been challenged by the economy and its budget reflects those stresses.
In this interview with Bentkofsky, he responds to questions about why, in boom-times, the city did not choose to function with less — like they do now. He addresses proposed expense reduction initiatives such as outsourcing and staff cutbacks as a result of certain efficiencies. He explains proposed compensation, pensions and revenue declines. And Bentkofsky offers a helpful review about the city's revenue sources, the process for public notice and citizen input, the use of reserve funds and what various funds comprise the overall budget.
In the 67-minute interview posted below, Bentkofsky offers additional comments about borrowing… the 1-cent sales tax extension and what it would fund… property tax delinquency… his perspective on the economy going forward… how the budget can be amended… reserve funds… budget presentation awards… and reveals who manages the budget in his family.
Additional feature Information
Robert Bentkofsky

assistant city manager and budget director, city of Oviedo
Links to other podcasts produced by CMF Public Media featuring city budgets
Extended Interview & Pictures
Click on the picture(s) to enlarge.
Robert Bentkofsky, assistant city manager and budget director, city of Oviedo, FL with Stephen McKenney Steck

Extended interview (1:07:49)