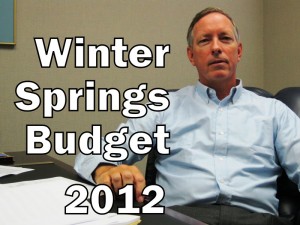 Winter Springs Mayor Charles Lacey explains how a new cost-effective approach to city finances has made it possible for the city to maintain the level of services even when revenues have declined by 28%. He describes the ways the city has managed to hold the line on costs through economies not utilized by previous administrations. Feature length - 19:20
---
The Winter Springs City Commission adopts the 2012 budget on September 26. It contains a variety of measures to cut costs as property tax revenues and other funding sources shrink dramatically.
Because 70% of the budget is personnel costs, this area was the center of the biggest changes. The number of employees has dropped below 200 and their benefits have been reduced. Also, the city's critical infrastructure needs have largely been met using the one cent sales tax and federal stimulus funds which has had the result of significantly lowering the need for spending on capital improvements in the city.
Mayor Lacey credits the greater efficiency and dedication of the city administration and staff for the ability of the city to do more with less.
Additional feature Information
Charles Lacey

mayor, city of Winter Springs, FL.
Links to other podcasts produced by CMF Public Media featuring city budgets
Extended Interview
Charles Lacey, mayor, city of Winter Springs, FL. with Desta Horner

Extended interview (24:26)