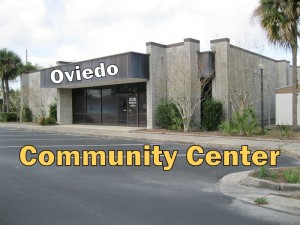 On January 23, 2012, the Oviedo City Council narrowly approved the purchase of an empty US Post Office building to convert into a community events center. Located in the historic downtown section of the city, the city claims the center will be a "hook" for launching a revitalization of that area.  Length:  37:55
---
This podcast will summarize a story about an historic family's promise to its matriarch, and that family's six-figure gift to the city to incent the purchase of an old and empty Post Office building representing what some believe to be a unique opportunity too good to let unknown factors stall the vision.
Principal Participants
Arthur Evans

President, Nelson & Co.

Oviedo City Council and staff
CMF Public Media podcasts featuring issues related to this subject
Pictures
After you launch the slideshow below, click "Next" and "Previous" to rotate through the photos.
Additional text
The story starts with 64-year old Arthur Evans. He and his brothers – David, Charles and Wes – represent one of several of Oviedo's founding families. The Evans' date back four generations or more. In his youth, in the early 1950's, Evans can remember the city population being 1900 residents and one traffic light.
The Evans family – along with ties to other historic Oviedo family names like Wheeler, Nelson and Lee – were, in the late 1800s, initially involved in groves of citrus and agriculture and the stewardship of the land that went with such a farming enterprise.
Overtime, as freezes reduced the family's citrus potential, their business acumen refocused on their land… such that commercial real estate development is now central to the family's current business acumen.
Yet, through out the generations, the families were and are politically and civically involved, philanthropically inclined and committed to preserving the city's history and its historic downtown section for future generations.
This is a commitment so strong that Evan's and his brothers and cousins made a promise to his mother, Clara Lee Wheeler Evans – now deceased, to help fund a museum-like facility for her beloved Oviedo Historical society.