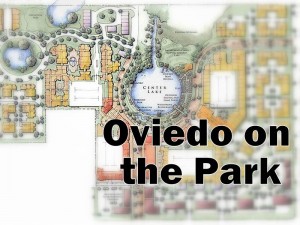 Oviedo on the Park is not a new project for the city though its development has been mired in challenges. But now the planets seem to be aligning in ways that suggest the presence of positive signs that the venture is picking up steam. Oviedo Mayor Dominic Persampiere offers this update. Feature length – 12:42
---
Oviedo on the Park and the re-development of historic downtown Oviedo go hand in hand because both ventures reside under the same community redevelopment plan. As you listen to mayor Persampiere, be certain to note the connection he makes with Oviedo on the Park to the redevelopment of the historic down town area… as the success of the Park will greatly influence the downtown redevelopment success.
Bio & Extended Interview
Click on the picture(s) to enlarge.
Dominic Persampiere

Mayor, City of Oviedo, FL

Mayor Persampiere with
Stephen McKenney Steck

Extended interview with (10:22)
Additional Feature Information
Related CMF Podcasts
Links to other podcasts produced by CMF Public Media featuring issues related to local economic development and coping with the economy in Seminole County.