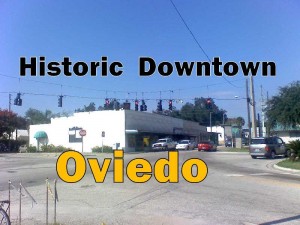 Historic downtown Oviedo is described pejoratively by some as -dilapidated and hodgepodge-lodge like, or complimentary by others as -charming, quaint and authentic. In this March 2011 interview, Oviedo Mayor Dominic Persampiere addresses the history, character and future of downtown Oviedo. (length 14:11)
---
Seated with the mayor in a city hall office less than a mile away from the geographic subject of this feature, Oviedo mayor Dominic Persampiere addresses the history and character of downtown, the railroad, the historic fire of 1914, and the confusing confluence of major roadways through the city's very heart. He speaks fervently about the plans to modernize the area without sacrificing its charm and function, but with the necessary loss of some current structures.
Bio & Extended Interview
Click on the picture(s) to enlarge.
Dominic Persampiere

Mayor, City of Oviedo, FL

Mayor Persampiere with
Stephen McKenney Steck

Extended interview with (13:25)
Additional Feature Information
Related CMF Podcasts
Links to other podcasts produced by CMF Public Media featuring issues related to local economic development and coping with the economy in Seminole County.