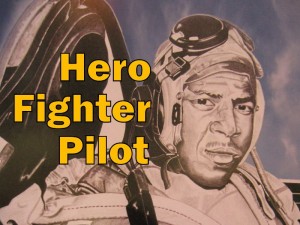 Jesse Leroy Brown was the U.S. Navy's first black fighter pilot. He overcame challenges of poverty and racism to achieve his goal of flying. His death in combat in Korean and the rescue attempt of his wingman is a story of friendship and heroism. Listen as his story is told during a tour the history exhibit "A Pilot Lights the Way.  (Length 16:38)
---
Valada Parker Flewellyn, author and poet from Sanford, Fl., is curator of this informative and inspiring biographical exhibit. During her research she discovered an unexpected link between Ensign Brown and the Naval Air Station in Sanford. As we walked through the pictures and memorabilia she has collected, she describes the life of Jesse Leroy Brown and his wingman, Thomas Hudner.
The exhibit also includes powerful drawings by the artist Carl Raphael Purdy. His portrait of Ensign Brown in his cockpit is the symbol of the exhibit. Mr. Purdy also drew studies of Lt. Hudner, Brown's wife Daisy at the medal ceremony and Brown's Corsair aircraft.
The exhibit is at the Sanford Museum, the oldest municipal museum in Florida. The Museum is open Tuesday thru Friday 11-4 and Saturday 1-4. The admission is free.
Principal Speaker
Links to other CMF podcasts featuring issues related to Hero Fighter Pilots
Pictures
After you launch the slideshow below, click "Next" and "Previous" to rotate through the photos.