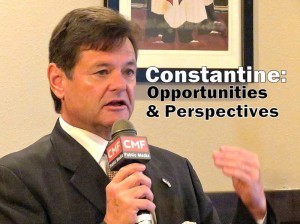 Lee Constantine speaks as the recently elected commissioner to Seminole County Florida's 5-member board of county commissioners. He addresses opportunities the county faces and he offers his perspectives gained through more than 30 years of elected service as a commissioner and mayor of Altamonte Springs, one of 7 cities in Seminole County, and as a legislator in the Florida House of Representatives and the Florida Senate. Length 25:43
---
In comments lasting 7-minutes, hear Constantine speak to his initial reaction to what he calls a "revolving door" culture among senior staff at county government, plus quality of life issues surrounding the county's public schools, recreation, water and environment. He comments upon certain county growth initiatives and the protection of the county's natural resources.
Calling on his previous state legislative experiences, he describes what will be his focus on the Springs Protection Act… UCF's medical school… the Wekiva Parkway and Protection Act…and Sun Rail.
In the final 16-minutes of his comments, Constantine responds to questions posed by league members and moderated by league president Jeanne Morris… questions on such county government issues as possible land use amendments to the rural boundaries in southeast Seminole County and the county's public library system.
His remarks were recorded by CMF at the January 24, 2013 Hot Topics luncheon of the League of Women Voters of Seminole County. The event was moderated by league president, Jeanne Morris.
Below, we have included links to Lee Constantine's resume, still photographs from the event and links to other relevant podcasts produced by CMF regarding Lee Constantine or Seminole County Government.
Principal Speakers
Jeanne Morris

President, League of Women Voters of Seminole County

Web
Pictures
After you launch the slideshow below, click "Next" and "Previous" to rotate through the photos.
CMF podcasts featuring issues related to Lee Constantine or Seminole County Government.