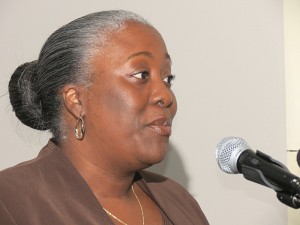 Seminole County government recently approved a $1.5 million dollar multi-year plan to increase the financial support county government, in part through non-profit local service providers, will extend to sectors of the homeless population in Seminole County, Florida.
Length - 32:49
---
After an almost 3-year project of planning and community conversation, the county commission on June 12, 2012, unanimously approved spending $1.5 million dollars in support of the homeless population in the county from what was initially to be only a $900,000 project
In this podcast, you'll hear the important final elements of this project as presented on May 30, 2012 by Valmarie Turner, the county's community service director, to a group of local service providers to the homeless population. You'll hear service provider reaction prompted by major elements of the report plus interviews with key people involved in the multi-year project. Extended versions of the meeting and the interviews are provided below as are links to documents relating to the report and recommendations. A slide show of still pictures taken at the meeting is also below.
This podcast from CMF Public Media is the 25th in a series of features CMF has produced over 3-years documenting the issue of being homeless in Seminole County and this journey on which the county and local service providers have been travelling. Links to each feature in the series are listed below.
Principal Participants
Debbra Groseclose

Executive Director, Pathways to Home, and member of the Community Conversation on Homelessness

Website
Pictures
After you launch the slideshow below, click "Next" and "Previous" to rotate through the photos.
Additional Audio and Extended Interviews
Valmarie R. Turner with Stephen McKenney Steck

Length – 22:17
Debbra Groseclose with Stephen McKenney Steck

Length – 31:21
Audio of the 5-30-12 Community Conversation on Homelessness
Length – Length – 57:16
Audio of the 6-12-12 Seminole County Board of County Commissioners
Length – Length – 19:41