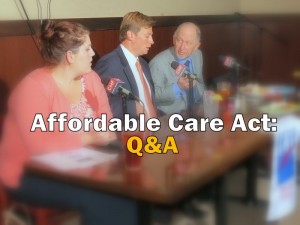 Three experts discuss and respond to questions on the Affordable Care Act implemented on October 1, 2013. Panel members are Jason Altmire of Florida Blue, Richard Morrison of Florida Hospital and Christina Swiridowsky of Enroll America (length 37:35).
---
(Produced, reported and edited by
Stephen McKenney Steck
, Event photos – Charles E. Miller for CMF Public Media)
The panel speaks for 20-minutes, followed by 10-minutes of panel answers to 8-questions asked by League members on such topic-related issues as Medicare Advantage, non-enrollment penalties, physician accountability and followup, Medigap coverage, the misinformation of aging-out of certain required surgeries, prescription drug benefits, pre-existing conditions, and employers' conversion of staff from full time to part time to reduce employer-paid health care plans.
Their remarks were recorded by CMF at the Thursday, September 26, 2013 Hot Topics luncheon of the League of Women Voters of Seminole County held at the Patio Grill in Sanford, Florida, and moderated by league president, LaVonne Grayson.
Principal Speakers
Jason Altmire

Senior vice president of public policy and community engagement, Florida Blue

Web | Bio
Richard Morrison

Senior vice president of government and public affairs, Florida Hospital; and vice president of government affairs for Adventist Health System

Web | Bio
Christina Swiridowsky

Regional organizing lead for north and East Central Florida, Enroll America.

Web | Bio
CMF podcasts featuring issues related to local health subjects (from most recent)
Pictures
After you launch the slideshow below, click "Next" and "Previous" to rotate through the photos.