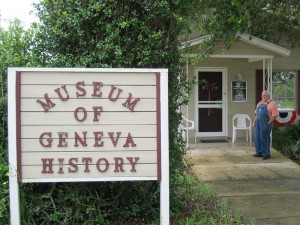 The Museum of Geneva History is a treasure trove of special items from Florida's past, especially the pioneer days. Mal and Mary Jo Martin of the historical society take us on an audio tour that makes Geneva history come alive! Length: 18:10
---
Geneva is a small unincorporated town in eastern Seminole County Florida with a big history stretching from prehistoric mastodons to Timucua Indian villages, to a fort in the Seminole wars to sawmills in the 1930's. It has seen steamboats and ferries and railroads serving its citrus and timber industries. And the Museum of Geneva History has acquired hundreds of items and pictures arranged in exhibits that tell the story of the people who have lived in the area.
The museum is owned and operated by the Geneva Historical and Genealogical Society. It was built in 1965 on land donated by the Kilbee family. The word went out to residents to comb their attics and bring in items from their grandparents' day. The residents of Geneva responded so generously that in 1977 the museum added a second room using a donation from the McLain family.
The director of the museum is Mary Jo Martin. She and Mal Martin have been members of the historical society for 20 years and they are perfect guides to the museum. Mal Martin is on the board of the Geneva Historical and Genealogical Society and serves as historian. They travel and research looking for items to add to the collection.
The museum is located at 165 First St. in Geneva. The Museum is open the 2nd and 4th Sunday of each month from 2-4 pm. The Martins are also available to open the museum for personal tours by appointment. They are especially eager to welcome children and students. Call 407-349-5697.
Principal Participants
Geneva Historical and Genealogical Society
CMF Public Media podcasts featuring issues related to local history
Pictures
After you launch the slideshow below, click "Next" and "Previous" to rotate through the photos.
Extended Interview
Mary Jo Martin and Mal Martin with Desta Horner

Length – 35:00