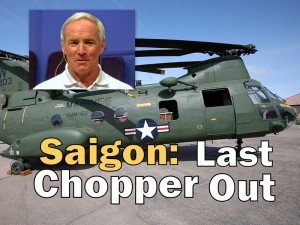 Marine Colonel Gerald Berry of Winter Springs, Fl., recounts his role in the dramatic story of the evacuation of the U.S. Ambassador in the Vietnam war (length 18:38).
---
(Produced, reported and edited by
Stephen McKenney Steck
, Event photos – Charles E. Miller for CMF Public Media, Helicopter title photo – courtesy Cpl Aubry L. Buzek & USMC; Historical photos courtesy Col. Gerald Berry. Event audio support – John Campbell & First United Methodist Church)
In April 1975, Gerald Berry, then a captain in the Marine Corps, piloted "Lady Ace 09" —the last chopper out of Saigon. Berry's chopper carried US Ambassador Graham Martin from the embassy rooftop to a US ship waiting off the coast of Vietnam… and in doing so marked the formal end of US involvement in the Vietnam War. In 1993, Berry retired from the Marine Corps after 25 years of service.
On Sunday, November 10, 2013, the day before Veterans Day 2013, to an audience of about 200 military veterans, spouses, civilians and church members, gathered in the sanctuary of the First United Methodist Church of Oviedo Florida, Berry spoke in a non-sectarian manner about his experience and those final historic hours now visually seared into the memory of a generation of Americans who lived through that era of the 1960s and 1970s.
Operation "Frequent Wind," as the project was called, stands today as the Marine Corps single biggest evacuation in its history, with captain Berry's 34 sorties logging 18.3 hours in the pilot seat of a CH-46D Sea Knight military helicopter.
Church member Larry Humes introduces Colonel Gerry Berry.
Principal Speaker
Gerald Berry

Colonel (retired), US Marine Corps

Bio
Additional Content Related Information
CMF podcasts related to US military veterans in Seminole County
Pictures
After you launch the slideshow below, click "Next" and "Previous" to rotate through the photos.