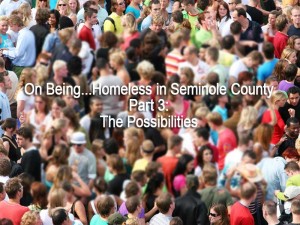 In part-3 of the feature On Being…Homeless in Seminole County, we ask a local panel of experts to discuss the "possibilities" of how or if the homeless in Seminole County might be better served or how the number of homeless might be reduced. They offer specific suggestions and timetables to accomplish their vision. Feature length – 47:27
---
Bios
Panel program format — The panel states their qualifications and their view of the homeless situation in Seminole County. Then Steck asks each to offer possibilities as to how to improve the homeless situation in the county. Each panel member responds to each other's ideas. At then conclusion, Steck weighs-in with closing questions and observations and we learn what we might expect in the future from these "possibilities."
Click below for parts 1 and 2 of the series On Being Homeless in Seminole County:
Part One – The Problem and the Players | Length - 23:49
Part -1 also features Cathy Jackson defining the problem and identifying the players involved in local homeless issues
Part Two – The People | Length - 50:12
Hear the stories of being homeless in Seminole County as told by three local homeless "people" – Ricky, David, and Dale — and the professional caregivers – Rocky and Doug — who monitor them as part of the Sanford, Florida HOPE team.
We encourage you to listen to or download the extended panel discussion from part three. It runs 1-hour and 23 minutes, from which only 43 minutes were excerpted for this feature. The additional material includes the panel discussing such related issues as whether or not homelessness was an issue worthy of the resources CMF Public Media put into the production of the 3-part series or if another more important issue should have been pursued. Plus, who else could or should have been included on the panel and whether or not the panel was objective or self serving in their answers and comments.
Production assistance for this panel recording was made possible by our friends at 90.7 WMFE-FM.
Links to other features produced by CMF Public Media addressing issues related to homelessness
Informative web links on issues related to homelessness
Extended Content & Pictures
Click on the picture(s) to enlarge.
Panel Discussion

Extended (01:22:40)