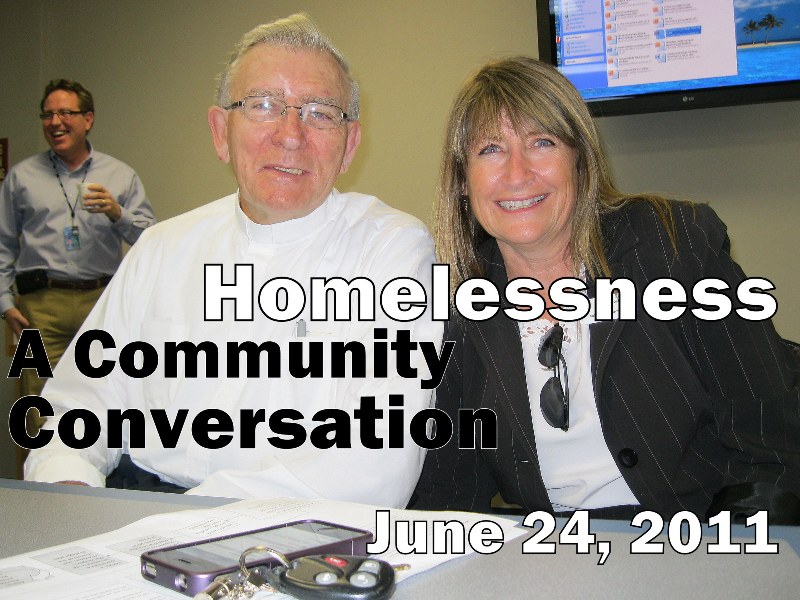 Service providers to the homeless gathered for the 4th "community conversation" to continue to develop a strategy to more effectively address the issue of homelessness in Seminole County Florida. CMF Public Media has been chronicling this "conversation" in a multipart series on homeless issues in the county and this podcast features excerpts from that meeting. Feature length – 45:40
---
This 45-minute podcast is a condensation of 3-hours of discussion hosted and facilitated by Michele Saunders, director of the county's department of community services along with Dr. Thomas Bryer, an assistant professor in the Department of Public Administration at the University of Central Florida.
As in the previous podcast of the third conversation (link below), no mention in made of the potential availability of $900,000 in new funds previously approved by county government for a multi-year homeless project, expended ostensibly on a project coming from this group.
Additionally, Saunders has not advised the provider group in this forum of her resignation, most likely set for July 22.
When CMF inquired of details surrounding her resignation, Saunders said her decision to leave was made solely by her for purposes of seeking new professional opportunity. She was not sure what her response will be to those who may feel her departure could place at risk the progress of this conversation at, or may create substantial delay, or that the provider group might lose standing in the eyes of county leaders as a result of her departure.
She states that her position as director of community services will be filled on an uncertain timetable… depending on candidate recruiting. It has not been decided if there is an internal heir apparent, particularly to assume her role with the provider group and this conversation.
In this 4th meeting, Saunders calls on Steve Fussell, whose voice and profile will presumably rise as this "conversation" moves forward. Fussell is manager of business processes for Seminole County government and it is on him, like with Bryer, Saunders will rely to navigate the infrastructure options the providers may need to create as they "collaborate" to enhance the care of the "homeless people in need" in Seminole county.
This conversation, held on June 24, 2011, took place in a conference room at Seminole County government's Health Department complex on Airport Boulevard just south of the city of Sanford.
Bios
Michelle Saunders

director, Community Services, Seminole County Government

Thomas A. Bryer, Ph.D

assistant professor, Department of Public Administration, University of Central Florida
Links to other podcasts produced by CMF Public Media featuring issues related to homelessness
Pictures
Click on the picture(s) to enlarge.
Extended Interview
Click on the picture(s) to enlarge.
Homelessness: A Community Conversation (#4)

Extended interview (02:43:35)
Extended Text
Knowledgeable homeless service providers state that in 2010 between 700 and 900 chronically homeless people are on the streets in Seminole County. That number does not include the near homeless, the recovering homeless or public school students of homeless parents in Seminole County.
In the Orlando metro area – largely defined as the counties of Seminole, Orange and Osceola, Seminole represents approximately 20 percent of the overall homeless population, yet only 4 percent of the beds accommodating and sheltering such homeless people are located in Seminole County.