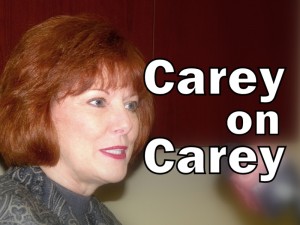 Seminole County Board of County Commission Chairman, Brenda Carey, reviews her recently completed term as chairman and comments on the issues coming up in 2012 for her next term as chairman. Length 26:47
---
Chairman Carey speaks about two key executive level staff members employed during 2011 – the county manager and the county attorney. She speaks about economic development issues – like the county's new development plan, the failure to land a much ballyhooed national photo voltaic research facility, and the prospects of the high tech corridor known as Seminole Way.
She also addresses the role county government plays with the financially beleaguered public school district, with SunRail, and explains the current stand-off in salary negotiations with the union firefighters. And she reviews the results of the county's redistricting of commission and school board districts.
Carey, who is also an elected commissioner serving district 5 in the northern part of the county, has twice served in the role of chairman. The first time in 2008, and then again in 2011 and she's now starting her third term in this office.
The extended interview with Brenda Carey is also posted below. You'll hear Carey offer further comments not heard in this podcast.
Additional Feature Information
Brenda Carey

Chairman, Seminole County Board of County Commissioners, and district #5 commissioner
CMF Public Media podcasts featuring issues related to Seminole County Government
Pictures
After you launch the slideshow below, click "Next" and "Previous" to rotate through the photos.

Extended Interview
Brenda Carey with Stephen McKenney Steck

Chairman, Seminole County Board of County Commissioners, and district #5 commissioner

Length 59:59
Hear Brenda Carey speak about what she's learned – conduct-wise—from being chairman for two terms and whether she would, if she could, ask for any "re-do's" on issues coming before the commission and her campaign for reelection as a commissioner.
Carey also speaks about the county's water system and relationships with the legislative delegation, the Seminole County Sheriff Don Eslinger, the new Seminole County school board chair – Tina Calderone, and the local media.
The extended interview concludes with Carey's latest personal project – "Leading Ladies."