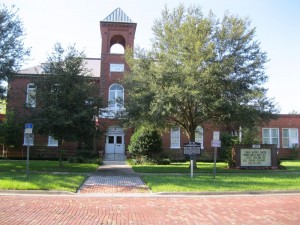 The Public History Center is a collaboration between UCF and Seminole County schools to launch an innovative program for the study and practice of community history in Central Florida. Under the direction of UCF history professor Dr. Rosalind Beiler, the former student museum will welcome students and the public to a creative history experience (length – 15:42)
---
The University of Central Florida has leased the student museum in Sanford from Seminole County Public Schools for two years. The UCF history department will continue to provide programs for 4th grade students in the public schools but will also offer college courses and promote graduate study and research at the museum. The center offers a large collection of items and artifacts from early Florida history, especially Seminole County. It encourages families and children to drop in and explore.
The Public History Center is located at 301 W. 7th Street in Sanford, FL. It is open to the public Monday, Tuesday, Thursday, Friday and Saturday 9:00am – 5:00pm. Guided and self-guided tours are available and while admission is free, donations are accepted. Call 407-936-1679 for more information.
Principal Participants
CMF podcasts related to the history of our community
Pictures
After you launch the slideshow below, click "Next" and "Previous" to rotate through the photos.