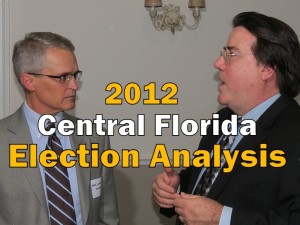 On November 14, 2012 one week after the general election, Mike Lafferty, the opinions editor of the Orlando Sentinel newspaper, and Craig Crawford, nationally recognized TV pundit, author and blogger, offered their analysis on the local and national outcomes of the long election campaign to a Hot Topic Luncheon audience of the League of Women Voters of Orange County Florida. (length 49:03)
---
In this 44-minute discussion you'll hear Mike Lafferty and Craig Crawford asses such issues as why Obama won and Romney lost the presidential election…. the national media's focus on campaign trivia or substance… the surprise outcomes of Central Florida races featuring Castor-Dental vs. Scott Plakon, Linda Stewart vs. Bob Brooks, and Chris Dorworth vs. Mike Clelland… the potential rise of new 2016 presidential contenders — Hillary Clinton, Jeb Bush and Marco Rubio…the changing voter demographics in Orange County Florida, particularly the increase in those registered as NPA's – No Party Affiliation… and identifying the big campaign donors in Central Florida.
You'll also hear League members ask questions to Lafferty and Crawford about voter turnout, the potential change in the complexion of the Republican Party, the likelihood of an "open primary" election, and the format of the televised presidential debates.
This presentation was recorded before an audience of 200 league members and guests on Wednesday, November 14, 2012 at the Sorosis Club in Orlando Florida as part of a Hot Topics Luncheon hosted by the League of Women Voters of Orange County Florida. The event was moderated by League president, Ann Hellmuth.
Principal Speakers
Mike Lafferty

opinions editor, Orlando Sentinel

Web
Moderator, Ann Hellmuth

president, League of Women Voters of Orange County Florida

Web
Pictures
After you launch the slideshow below, click "Next" and "Previous" to rotate through the photos.