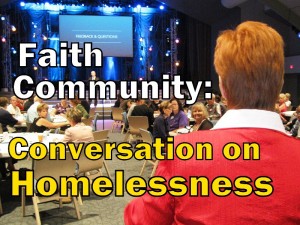 On this Heard in Central Florida you'll hear remarks from Dr. Joel Hunter, senior pastor of Northland – A Church Distributed in Longwood Florida and comments from more than 20-other faith based leaders and others in Seminole County Florida as, for the first time, they gather together to consider a county-wide faith-based initiative to work parallel with other organizations in the county to address homeless issues…particularly those of the county's 1700 homeless public school children. Feature Length — 1:41:10
---
More than 170 faith based leaders spanning different faiths in the county assembled together on Wednesday, August 10, 2011. Joined by a handful of non-sectarian providers of services to the homeless in the county, this group met for more than 2-hours — in what some have described as an unprecedented gathering — to address the plight of the homeless in Seminole County and, more specifically, the plight of the county's homeless students in the public school system…and what the faith based community in the county might do to collectively address their needs.
Over the course of this audio podcast you'll hear local faith-based leaders report on, question and discuss initiatives that might be considered to work collaboratively and in a non-sectarian manner with Seminole County Public Schools to more effectively respond to and address the needs of homeless students.
Motivated by a CBS Television Network 60 Minutes episode — which featured the plight of homeless students in the county, an organizing committee of faith leaders in the county, met to determine if the religious community might make a greater contribution to reduce the student homeless count and improve homeless conditions in Seminole County.
As a result, and with consultation and collaboration from Seminole County Public Schools and Seminole County government, the committee and Dr. Joel Hunter extended an invitation to the entire county faith community – Jews, Muslims, Christians and other faiths – to come together in concert with the public school system in a strict nonsectarian manner to discuss resources necessary to address, service and reduce the homeless student population.
More than 170 attendees accepted that invitation. This 90-minute podcast chronicles that meeting. Still photographs of the event and links to relevant documents are also found on our web page.
Among remarks you'll hear will be those from several providers of homeless services in Seminole County — as each describe the service models for which they are responsible – a community model, a ministry based model, a school-based model and a collaborative model.
After small group breakouts, you'll hear meeting participants ask questions and offer summarizations to the discussions held at each of 13 tables. Leaders respond to those questions and make suggestions as to next steps the faith based community might take to address the issue of homeless students in Seminole County.
Northland Church hosted this event as the discussion begins with Dr. Joel Hunter, the church's senior pastor who serves as the event's host and moderator.
Heard in Central Florida presents this podcast in concert with the full coverage we have been providing on our Central Florida Matters web portal of the secular gathering of homeless service providers in their year-long project to amp up a more collaborative and county-wide plan to better serve the homeless in Seminole County. Links to those podcasts are provided below.
Principal Speakers
Dr. Joel Hunter

Senior Pastor of Northland – A Church Distributed, Longwood, Fl.

Andy Searles

Pastor, congregational life, Aloma United Methodist Church, Winter Park, Fl.

DeDe Schaffner

Chair, Seminole County Public Schools

Rachel Ballantyne

Director, LifeHope, Northland – A Church Distributed

web |


Debbra Groseclose

Executive Director, Pathways to Home
Links to other podcasts produced by CMF Public Media featuring issues related to homelessness
Additional Event Pictures
Pictures
After you launch the slideshow below, click "Next" and "Previous" to rotate through the photos.