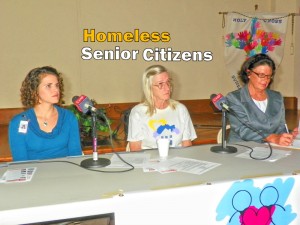 Hear about the rising number of homeless senior citizens in Seminole County FL. Representatives from Seminole Behavioral Health Care in Sanford; an elder crimes and services investigator with the Seminole County Sheriff's office; and a 61 year old local homeless woman offer their on-the-ground perspective. Feature Length — 53:36
---
Photos – Charles E. Miller
More than 56,700 persons in Florida have been identified as homeless through a statewide "point in time" count conducted on one single day in January 2011 —this according to statistics released in June 2011 by Florida's Department of Children and Families and their Council on Homelessness.
In Seminole County, that same count yielded 810 homeless persons, more than twice the 397 count from the year before. Applying state wide percent figures that show 5.3% of the overall homeless population are persons considered to be over 60 years of age – that county count yields about 43 homeless senior citizens in Seminole County. Experts consider that number conservative as the count does not include persons sharing the housing of family or friends, or persons living in a motel, travel trailer park or living in a campground.
Though difficult to quantify beyond the application of that statewide percentage, each speaker will address the rising number of homeless senior citizens from their on-the-ground perspective.
In a wide ranging 45-minute Q and A format, you'll hear the experts establish their credentials, describe the problems, offer current and proposed solutions and address multiple trip-wires and frustrations confronting homeless senior citizens. Speaking knowingly and personally of her homeless condition, Susan Mooty offers a tangible description of life as a currently homeless elderly person.
The Seminole Action Coalition Serving Our Needy, often referred to as SACSON, is a non-profit group of faith based organizations and individuals in Seminole County providing education, programs and services to those in need. One such program is this – their Dessert and Coffee discussion series. Visit this link for more information about SACSON.
Principal Speakers
Karen Harmon

Housing coordinator of Seminole Behavioral Health Care, Sanford, Fl.

Barbara Fore

Elder crimes and services investigator with the Seminole County Sheriff's office

Susan Mooty

A 61 year old local homeless woman
SACSON host and facilitator:
Trace Trylko

Chairman, Seminole Action Coalition Serving Our Needy (SACSON)
Links to additional information referenced by Trace Trylko:
Links to additional information referenced by Karen Harmon:
Links to additional information referenced by Barbara Fore:
Links to podcasts produced by CMF Public Media featuring issues related to homelessness:
Pictures
After you launch the slideshow below, click "Next" and "Previous" to rotate through the photos.